Guide to genealogy in Sweden
---
Födelse- och Dopböcker/Birth Records
There are several variation on how birth records are structured and I will mention
the most common ones. In the first two columns usually birth and baptism dates is
indicated. The next column is the first name of the child. There after follows the
name of the parents and possibly where they live. Sometimes only the mother is
mentioned and this can have diffrent reasons such as the parents isn't married or
the father dosn't acknowledge the child. The parents age may be noted in the next
column. In the last column the name of godfather and godmother is noted.

Example: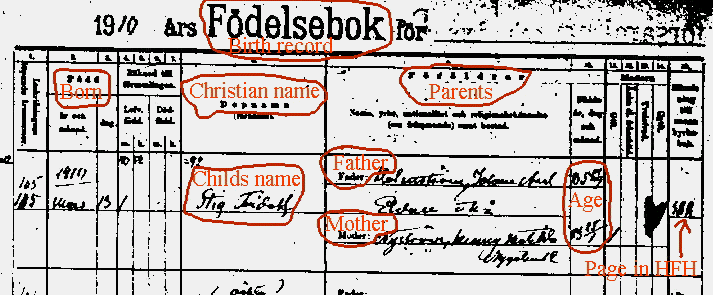 In older times they sometimes wrote birth date, name, name of the parents and
the place of birth in one sentence. Something like this:

Anders born on the 15 of Mars by father Nils Andersson and his wife Karin Larsdotter
in Stockholm.

There are many combinations on this sentence, such as the childs name comes in
the end of the sentence or the fathers occupation substitut the word father and so on.
---
Död- och begravningsböcker/Death Records
In the first two columns usually death and burial dates is indicated. There after titel,
name, village and cause of death. Last the age upon their demise is indicated in years,
months and days.
---
Vigsel- och lysningsböcker/Marriage Records
---
Husförhörsböcker/Family Records
These records is based for every household and was to keep records over the parishers
ability to read and understanding the bible. Every person in the household is represented
starting with the owner of the house and his wife followed by all their living children that
still is living at home during the time the book was kept, usally 5 or 10 years. If the family
had any farm-hands or maids they also was included after all the children. The children
usally only have their first name and infront off that there is a notation if it's a son or a
daughter. After every person is the birth day or year indicated and possibly which parish
they where born in. In the next two columns you find out where the person came from and
where they went next if these are empty they haven't moved and can be find in this village
in the next book, if there is a page number that indicates moving within the parish and you
can find the person on that page in the same book. If a person dies or moves they are
crossed out.
---
Back to my genealogy homepage.

This page is maintained by Johnny Blästa